We are excited to add a variety of new tools that our members have been asking for.  A portion of the money we raised from the Give!Guide was used to purchase these high quality tools.  Many of the new  tools described below are factory reconditioned and almost new:
---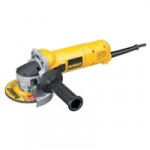 DeWALT 4-1/2-Inch Small Angle Grinder
This grinder is great for sanding and grinding high spots in concrete or cutting steel bolts. This is a nice heavy duty tool to add to our collection.
---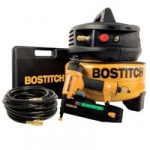 Bostitch Compressor and 18-Gauge Brad Nailer
With all the pneumatic tools in the Tool Library, we decide to purchase an air compressor. This is an oil-free compressor and good for all of your around-the-house projects.  The 18-Gauge Brad Nailer takes up to 2" nails and is great for adding all that trim work in your house.
---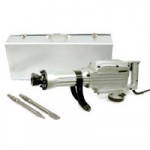 Heavy Duty 1240w Electric Demolition Jack Hammer
Because of the popularity of this tool, we now have two jack hammers.  This is an awesome tool for removing old concrete slabs and pathways with ease.  It is also fairly lightweight and easier to handle compared to most jackhammers found at rental stores.
The most important thing to remember when using this tool is to keep the oil level filled to maintain proper lubrication. We also have an extra set of chisels to use with the jack hammer, since they do wear out with use.
---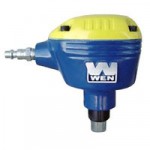 Pneumatic Palm Nailer
A palm nailer is useful for nailing joist hangers on a deck, framing walls in your house, or nailing in awkward spaces. The nailer connects to an air compressor and fits comfortably in the palm of your hand. It functions like a regular hammer by driving a nail into the wood with a piston that moves back and forth.  It is intended for rough nailing and not finish work.
---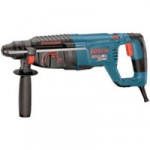 1-Inch Bosch Rotary Hammer
This heavy-duty rotary hammer is very capable for all normal homebuilding or remodeling tasks. It will drill holes fast and install anchors in concrete or masonry in a few seconds. It drills into most concrete as if it is drilling into butter, which can save you hours of labor.
A hammer drill works a lot like a regular power drill; with one extremely important feature.  Instead of spinning a drill bit, a hammer drill also creates a percussion effect that rapidly hammers a bit into the material at a rate of thousands of blows per minute. The spinning action draws waste material out of the hole. While it is a simple little feature, the percussion effect is what allows a user to easily drill hole after hole into common masonry, rock, and concrete. As an added bonus, you can also simply turn off the percussion and use a hammer drill on wood, drywall, and other less dense materials, just as you would use a normal power drill.
Please stop by the tool library if you have any questions on how and when to use any of these tools.  We are always happy to help you find the right tool for the right job.