The Northeast Portland Tool Library is a 501(c)(3) organization. The Northeast Portland Tool Library provides Northeast Portland residents of all income levels access to tools, empowering our neighbors to build and maintain a sustainable, thriving community.
________________________________
IMPORTANT NOTE: If you are not already a member, you must sign up for membership on our membership page before making a library appointment below.
See our Covid operating guidelines below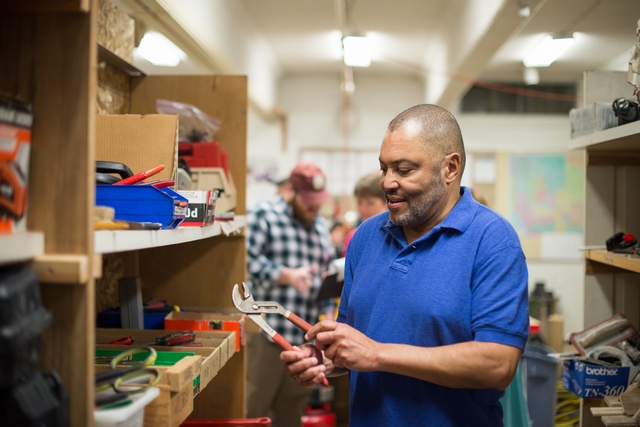 ---
COVID Guidelines When Open:
Everyone must wear face coverings at all times. No mask, No tools.

(updated 11/12/22, yes we are still requiring masks)

No need for an appointment; just come on in during our open hours.
6ft distance must be maintained at all times
A maximum of 5 members will be allowed into the library at one time.
Location:
Leaven Community Center/Salt and Light Lutheran Church
5431 NE 20th Avenue
Portland, OR 97211
A 501(c)(3) charity.  Tax ID: 81-4993759
Our Commitment to Equity:
As a community-focused organization, NEPTL strives to support and serve all members and address racism head on. 
NE Portland is rich with history. Tragically this history includes gentrification and discrimination of people of color by the white majority. The NEPTL seeks to improve its diversity not only of race but also of perspectives and identities which will enrich our mission and equip us to be more accountable to the structures of white supremacy. We stand with the Black Lives Matter movement and the demand for racial justice in this country and this city.    
In addition, we recognize that racism shows up through invisibility of indigenous lands and erasure of indigenous history. NEPTL recognizes that we are located on the unceded lands of the Cowlitz peoples. We acknowledge the systemic policies of genocide, relocation and assimilation that still impact many Indigenous/Native American families in our community today and we respectfully hold space for all Indigenous communities—past, present, future—and are grateful for their ongoing and vibrant presence.
Racism, genocide and gentrification are complex and cannot be summed up in a short statement. It is our desire to bring attention and discussion to these important topics and to identify areas where there are opportunities for us all to do more. We invite community input and feedback as we continue to educate ourselves and learn best how to acknowledge the diverse, complex and robust history of this area.