Tool libraries are just like traditional libraries, but with tools instead of books.  They are great for people who can't/don't want to buy/rent tools they are only going to use once in a while.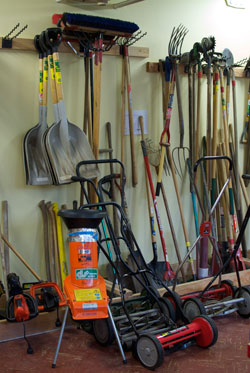 The Northeast Portland Tool Library (NEPTL) is your neighborhood tool library.  We lend out free of charge an ever-growing inventory of home-repair and gardening tools to Northeast residents and community groups.  We are located in the basement at Leaven Community Center at NE 20th Avenue and Killingsworth Street (entrance is through the parking lot, down the ramp on the SW corner of the building).
Join the Library – it's FREE!

You can sign up to borrow tools for free from NEPTL if you are 18 or older and live in Northeast Portland west of 82nd Avenue.  To learn more visit the Membership page or stop by during our open hours to get an application packet.  Sign and bring in the forms, show the requested proof of identity and residency, and you're ready to go!
Do you have a group project that requires more than 7 tools at once?  Visit our Group Loans page to learn more.